The family owned Elves Holiday Resort welcomes you to Levi, Finland. For more than 25 years our resort has been operating hotels, restaurants and an elves experience village in the arctic Lapland.
Times have changed a great deal since I opened the Porogrilli restaurant in 1981. We opened Hullu Poro, our first hotel, in 1988. It is now very well known and loved amongst the visitors from all over the world. Our restaurants and pubs cater many tastes of the local and international travellers offering everything from local cuisine to Asian delicacies.
Our two boutique hotels Taivaanvalkeat and Blueberry Villa are situated in the middle of the nature in a beautiful country setting by the Ounasjoki river. This location offers our guests unique access to our Elves Village experience village with adventures and activities for the whole family. In 2013 we also opened Hullu Poro hostel for those who prefer high quality rooms with competitive prices.
As time has passed and our business has grown from one restaurant to multi-site resort, we were facing the fact that we need a new internationally recognizable family brand to bring all our different operations underthe same umbrella.
Lapland is the home of Santa Claus, Elves and many magical creatures and every year thousands of families travel here to experience the magic. Our Elves Holiday Resort concept was born out of our love to the local heritage and Nordic nature. All of our hotels, restaurants, activities and adventures are now part
of Elves Holiday Resort concept bringing individual travellers, couples, friends and families together. We and our team of elves welcome you to experience the wonders of the arctic Lapland.
Päivikki Palosaari
Entrepreneur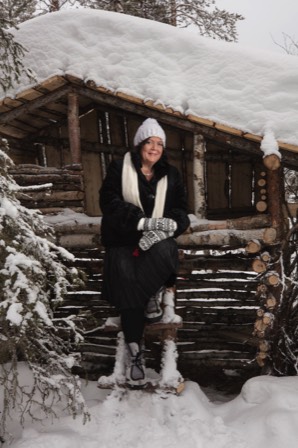 Follow us